This post has been published by me as a part of the Blog-a-Ton 14; the fourteenth edition of the online marathon of Bloggers; where we decide and we write. To be part of the next edition, visit and start following Blog-a-Ton.
H
er eyes shone with the dangling of her earrings and the tinkle of her anklet, as she was swinging on the simple rope swing tied to the tree on that cool evening. It was a lovely feeling for her, as her life had changed, she has her share of joy of marital bliss and it was beginning of her family life, she was expecting.
Her husband Toufeeq was equally excited for his baby. He was glad he could marry the girl he liked so much since his childhood and now it is a good news which has filled the family of Toufeeq with unexplainable joy. Gudiya swung slowly, just go get a little feel of the cool breeze, she knew she has to be careful, it is her fifth month of pregnancy. And the thinly built Gudiya had begun to show the baby bump now.
She knew she had left her past behind. As it is it were just 10 days of marriage with Mohammad Arif, who left one day and didnot return.
Everybody thought, it was good that her parents had arranged her second marriage to Toufeeq. She had moved on, in real sense.
Her happiness though was shortlived. Arif, had been declared a deserter by Army, when he disappeared while he was on duty mine sweeping near LoC, but later was found languishing in Pakistan jails and the Indian authorities got him released. The news spread to Gudiya's village like fire.
She was full term pregnant, had come to visit her mother's place, when the news of arrival of Arif reached her. She was summoned back to her first husband's place, as she had not legally divorced her first husband. The matter of her heart, her choice, her life and her marriage became slave of the local religious leaders, and in her haplessness, she could only utter once " I am not a cow or a buffalo that you can now send me to Arif. I love Toufeeq, I want to go to him.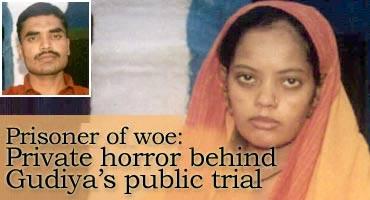 image courtesy: rediff news
May be that was the only thing she could say before she was quietened by her family, society, elderly men and religious leaders etc. Even her child to be born was labelled as illegitimate, as it was out of the wedlock. Do I need to say it that Guriya was sent back to Arif, her first husband?


It was a return she had not expected, it was a return, which finally killed her.
RESTLESS
The fellow Blog-a-Tonics who took part in this Blog-a-Ton and links to their respective posts can be checked here. To be part of the next edition, visit and start following Blog-a-Ton.